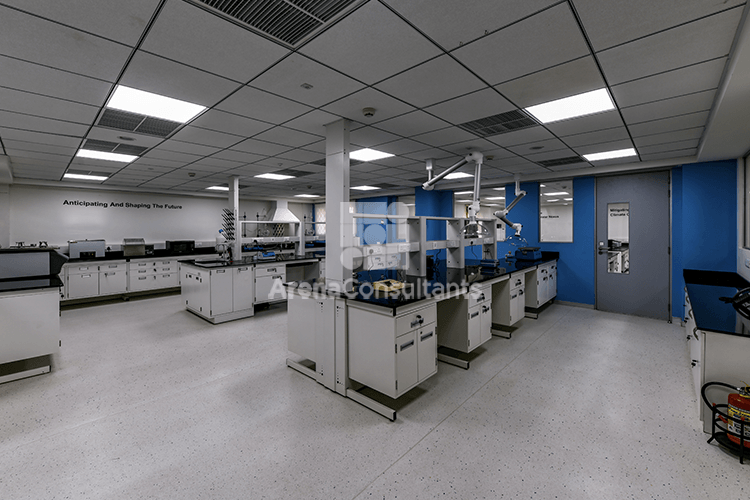 Site assessment and Feasibility
01
The first and foremost yet very important is the site visit. Be it a greenfield project or retrofitting or redevelopment project, our design and planning teams conduct a site visit. The primary motive is to assess the suitability of existing facility for a range of laboratory services. Few of the factors that are of concern and affect further development are: floor heights, layouts and routes of existing mechanical, plumbing and electrical/ low voltage systems, structural strength of building, façade for window openings and day light factor etc. Based on this visit we analyse if the client requirements can be met and provide suitable recommendations.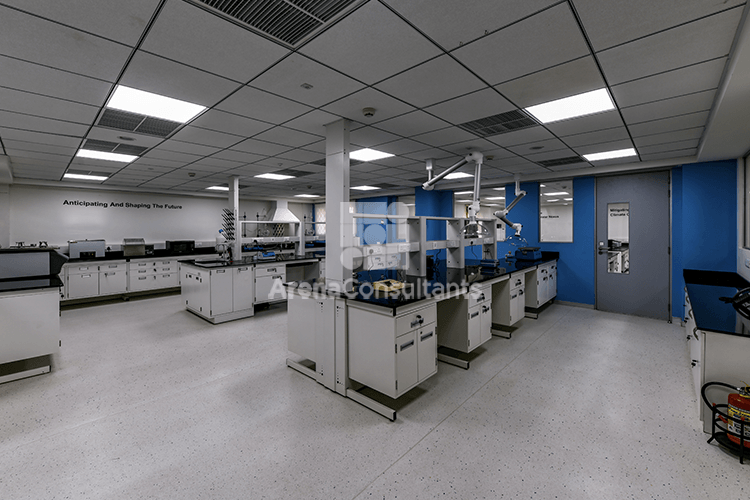 Pre-Design Stage
02
Bubble diagrams, space allocation layouts is what we start with. This helps in understanding space adjacencies, dependencies and inter-connections between various departments. Simultaneously we conduct multiple workshops which enhance better understanding of the project and client requirements. We encourage interaction and participation from all stakeholders in order to gather as much data as possible.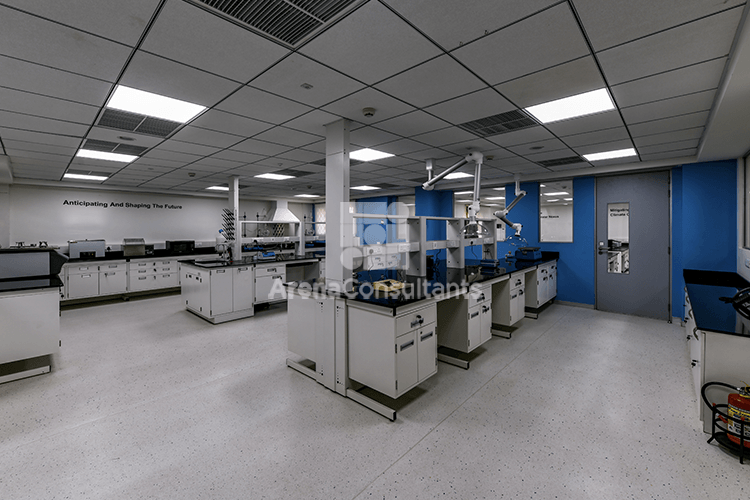 Design Development Stage- Architecture and Engineering
03
This is a more hands-on stage where the team starts working on preparing detail layouts, schemes and design basis reports. The engineering concepts are finalised, loads calculated and single line diagrams are prepared. Locations of all mechanical services and their routing is planned and plotted. Coordination drawings are prepared due to which overlaps are identified. 3D modelling and BIM modelling helps in resolving issues if any. We run these documents through all stakeholders by conducting presentations and detailed discussions. We are SENSITIVE to ENVIRONMENT: As a process, design basis reports related to all engineering packages- Utility systems, fire alarm and security systems, HVAC and laboratory ventilation, electrical and low voltage systems, waste management, ETP design are discussed to the last core and finalised.
Yet our engineering does not stop at that. We are great followers of SUSTAINABILITY and so we propose GREEN concepts at the design stage itself.
We provide Final Design Calculations, Equipment sizing, Detailed Technical Specifications, and Good For Construction Drawings for:
Architectural
Civil and Structural
HVAC
Lab ventilation
Plumbing
Electrical and Low voltage systems
Mechanical
Gas Piping and Utility services
Fire alarm and security systems
Effluent Treatment Plant
We know by our experience that lab users- scientists/ analysts are non-technical people. A researcher is very closely and emotionally connected with his lab facility. And so we discuss laboratory furniture, equipment mapping layouts and power socket layouts with the user in detail and simplify the planning approach with repetitive interactions. The functionality and technical aspects of safety elements such as eye-wash, safety shower are explained along with discussion on SOP's. The repetitive exercises that are conducted with users avoid future probable mistakes, additional items and brings in lot of clarity.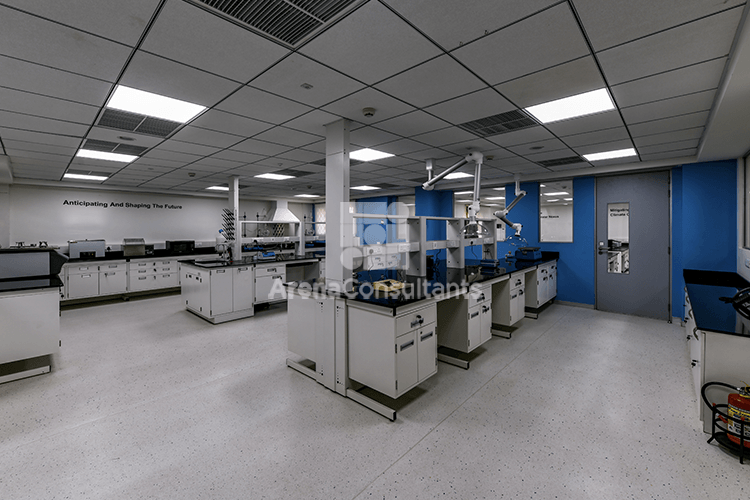 Tender Drawings and documents deliverables
04
A design docket comprising of all construction drawings , bill of quantities, detail specifications, cost estimates and make list are prepared once we receive approval from client on conceptual drawings and data. By this, a standard template/ document is generated enabling the vendors and contractors for competitive bidding of the project. Post request for proposal is released, we respond to the bidders queries. Upon receiving the quotations, we prepare the comparatives which are apple to apple comparisons and with no ambiguity.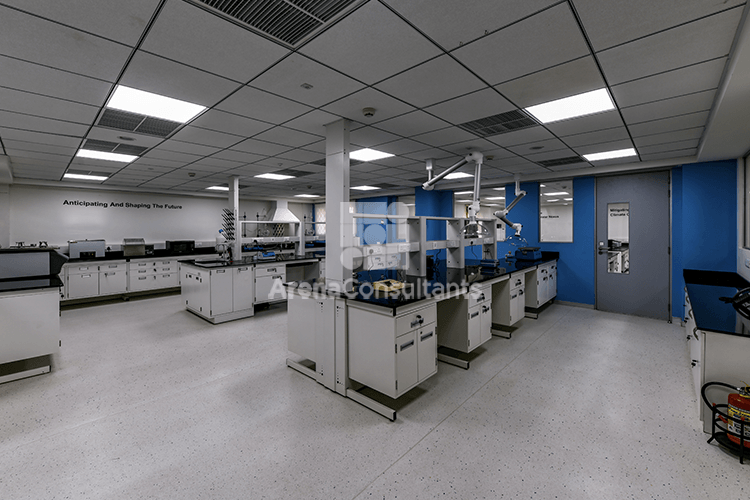 Construction Stage
05
Reviewing all contractors project schedule and compilation of the master plan forms the most important part of this stage. Approving the shop drawings, technical submittals submitted by contractor for all engineering packages, verifying line marking and approval of materials board is done from design perspective. We ensure that our primary responsibility is carried out thoroughly and that it is; conducting site visits at specific intervals to ensure that work is being done as per design intent.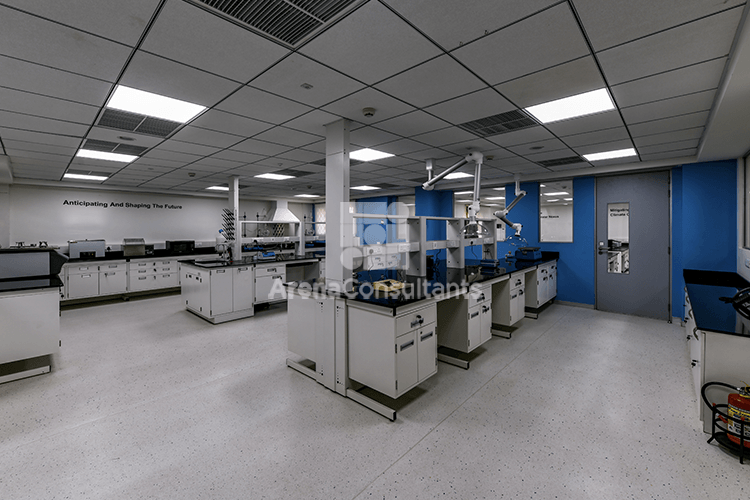 Post-Construction Stage
06
Final visit is conducted to check and verify the quality of work. We prepare snag list which the contractor is expected to clear. Virtual completion certificate is issued to the contractor. Last but not the least, verification and approval of as-built drawings is done so that the contractor can submit the handing over docket to the facility manager.